Herbal Intensive with Leslita Williams, Spring 2015
It's Complicated: Untangling long term and chronic conditions- Herbal and Holistic Protocols for the support and healing of chronic health conditions including: arthritis and back pain, diabetes, thyroid and adrenal problems, heart disease, Lyme Disease and more.
Join Leslita Williams RH AHG (see bio below) for an in-depth two day workshop taught at Greenstar Farm and Apothecary in Blackburg, Virginia. This intimate class is limited to 12 students. Some prior knowledge and experience with medicinal herbs is recommended. Lively discussion, clinical case sharing, formulation, plus a tree and weed walk are on the agenda. You can get a certificate of clinical hours for attending this workshop. Teas, and a delicious organic lunch will be served on Saturday; and tea, coffee, and breakfast snacks on Sunday morning for no extra charge.
Check back in with our website for more information on Leslita's workshop dates. Email to let us know of your interest!
Cost: $125 for both days. $50 deposit required. Some scholarship available.
Mail to: Greenstar Farm - 1025 Jennelle Rd. Blacksburg, VA 24060
Leslie Williams (also known as Leslita) Is a Registered Professional Herbalist with the American Herbalist Guild. She was raised by farmers, herbalists and woods wanderers, and has been practicing herbalism all her life. She has maintained a clinical practice for more than 30 years including working in a free clinic setting at festivals, teaching at The Florida Herb Conference, Southeast Women's Herbal Conference, The AHG national symposium, etc, and mentoring herbalists through the Guild at all levels of their development. Most of her early teachers were great herbalists, naturopaths, shamans and healers that you have never heard of, but who worked all their lives doing amazing work in their own communities. Leslie is grounded in Rural Southern and Appalachian Herbalism and Traditional Western Herbalism, though she has trained in Ayurveda, Chinese Herbal Basics, and beyond. She wildcrafts and grows as many of her apothecary herbs as possible, and has a special love for the herbal medicine of trees. From the oldest herbal texts and lore available from around the world, to the most contemporary online research: it all matters in this work of healing with plants. Leslie is currently working on a book about herbal formulation.
Call 540.951.4810 with any questions at all. If no one picks up leave a message with your phone number and we will call you back. Our phone does not store phone numbers.
Weekend Retreat with Master Herbalist Matthew Wood, October 12-14 2012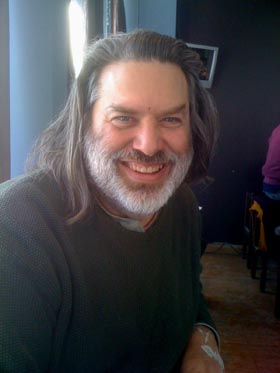 Join us for a weekend with the master! Matthew Wood is a practicing clinical herbalist, homeopath and internationally recognized authority on herbal medicine. For more than 25 years Matt has helped thousands of people with his vast knowledge of herbs. He is the author of The Book of Herbal Wisdom: Using Plants as Medicines, The Earthwise Herbal (Volumes 1 and 2), and Seven Herbs: Plants As Teachers, among others.
The weekend will start out with a lecture on practical herbalism friday night at the Blacksburg Friends meeting house. This lecture is open to the general public, and is included in the weekend retreat fee. Saturday we will meet at Greenstar Farm from 9am to 5pm, and from 9am to noon on Sunday for in-depth studies of herbal specifics for difficult health issues such as Lyme's disease, ADD, and various mental health concerns. Matt will help us deepen our relationship to plants by integrating western botanical knowledge, homeopathy, Traditional Chinese Medicine, and Native American shamanic botany.
The workshop includes a local organic lunch on Saturday as well as snacks and teas. Fee including Friday lecture in Blacksburg, $150.
For more information about Matthew and his work visit his extensive website at www.woodherbs.com
Contact us to register or with any questions:
Greenstar Farm
1025 Jennelle Road
Blacksburg, VA 24060
540.951.4810
greenstarfarm@hotmail.com