History of Greenstar Farm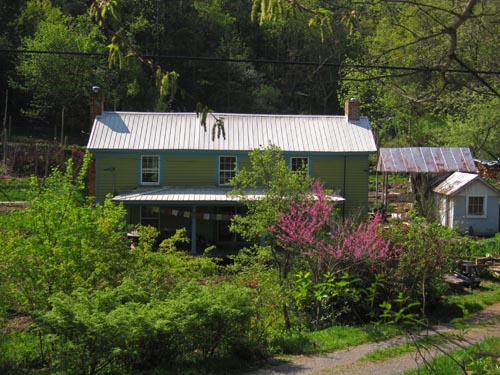 Greenstar Farm is a small scale certified organic produce and medicinal herb farm run by the Cooper-Schenker family in Blacksburg, VA. Lauren Cooper and Andrew Schenker met working as interns on Sleepy Creek Farm, an organic farm located in Berkley Springs, West Virginia that grew produce and trucked it into Washington, DC. After another season working as garden interns together, this time at Springtree Community in Scottsville, Virginia, they got started on establishing Greenstar Farm in November of 1991 at 1025 Jennelle Road in Blacksburg, Virginia.
The property is part of the 96 acre Tosh Miller farm and homestead established in 1900. Mr. Miller built the original chestnut log cabin that is the oldest part of the Greenstar farmhouse. Mr. Miller and his heirs grew corn, raised hogs, and made moonshine among other things.
For some years the home-place existed as a rental property as the original Miller farm was divided and sold in 1974. In 1980, Lauren's father, retired biology professor and naturalist Ken Cooper, bought 6 mostly wooded acres of the Miller Farm. He eventually gave the property to the fledgling Greenstar Farm in the mid 1990's. Work to improve the soil, clear garden space and stabilize the house began immediately after moving onto the site in 1991. In 1993 Bob and Emily Stuart allowed Andrew to build a large garden on their land, adding an acre of garden to Greenstar. Then, upon the death of neighbor Loss King in 2003, Andrew and Lauren added the intern's cabin and an additional acre of southern exposure growing area with the purchase of the King land. With the help of a talented intern named JP, Andrew completed a larger greenhouse in 2008, greatly increasing production.
Andrew completed a course in permaculture design with Chuck Marsh in 1993. Greenstar became certified organic by the state of Virginia in 1998, and when certification went federal in 2002, by Quality Certification Services in Florida.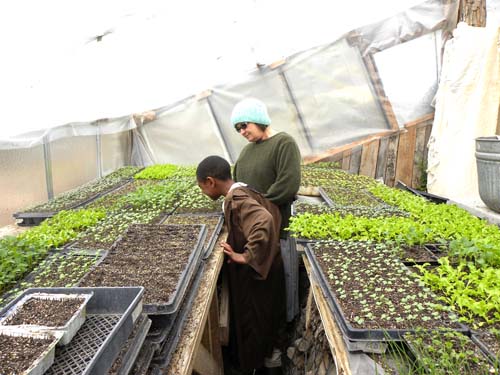 Over the years, more houses have sprung up around Greenstar, and two children were born, Kaily Moon in 1995 and Julian in 2002. The farm is still just a small clearing in a steep, wooded hollow of the Allegheny Mountains.
Since 1995, predominately through direct sales at the Blacksburg Farmers Market, and wholesale accounts at area health food stores and restaurants, the farm has generated enough yearly income to support the Cooper-Schenker family. Besides generating cash income through sales, Greenstar Farm strives to become a self-sufficient homestead, complete with laying hens, meat rabbits, honey bees and an herbal medicinal apothecary.
Blacksburg Farmers Market Vendor Profiles: Greenstar Farm